Executive Assistant
—
Email: mike.minnis@summitvolleyball.com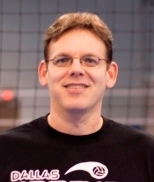 During his 19 seasons as a Collegiate Volleyball Coach, Mike has earned a reputation as one of the best skill development coaches in the nation. In his time at the University of Central Oklahoma, the University of Oklahoma, Seward County Community College, and most recently at the University of Tennessee, Mike has developed and coached 10 All-Americans, four Academic All-Americans, 32 All-Conference Players, 33 Academic All-Conference Players, nine players that have gone on to play professionally, six players that have played with our U.S. National Team and 27 players that left their collegiate experience and continued as coaches of this great sport.
Every program that Mike has been involved with has reached post-season play. Mike helped lead UCO to its first ever berth in the NCAA Div II National Tournament, helped Seward County to a 5th place finish in the National Tournament, guided OU to the NCAA Tournament and coached the University of Tennessee to two Sweet 16 appearances, one appearance in the Elite 8, culminating with a spot the NCAA Final Four in 2005.
His involvement and dedication to the sport of volleyball has not been limited to the collegiate game. Minnis, along with former OU Head Coach Miles Pabst and many others, began a quest to enhance volleyball at high schools throughout the state of Oklahoma. His efforts obviously paid immediate dividends, as the number of high schools sponsoring the sport of volleyball increased from 40 in 1993 to more than 100 in 1999.
In 1990, Minnis served on the Oklahoma Region United States Volleyball Association (USVBA) Board of Directors, a position he held until 1992. From 1996 to 1998, he was an adviser to the director of the Youth National Team. In addition, Minnis served as the training site coordinator for the 1996 Summer Olympics in Atlanta and assisted with tryouts for the 1996 Youth National Team.
Minnis is the co-author of "Fundamentals of Volleyball," a teaching tool for the Oklahoma High School Association. Along with Pabst, Minnis also completed three skill videos aimed at high school and club coaches.
Mike has qualified each of his teams for the Junior National Championships, including past 2 seasons in the 17 Open division. During the 2010 season Mike's 17 Mizuno team won gold at the Lone Star Qualifier and finished the season by winning the Bronze Medal at the Junior National Championships . Mike also coordinated the PrepVolleyball Unsigned Senior Showcase in Las Vegas, which featured over 600 of the nation's unsigned seniors. Mike currently serves on the North Texas Region Junior's Board of Directors.